Tim Burton Exhibition is ending today at the MoMA (hurry if you are in NY and haven't seen this exhibition!), I was so happy to be able to catch it last Friday. I think it must have been the most popular museum exhibition ever just from what I have seen. Every time I went over there, it was packed with people, the tickets were always sold out, and the last Friday was no exception, it was actually the most packed museum exhibition I've ever been to. (I became a member finally! I don't know what I was waiting for…) but it was all worth it. The man is clearly so freaking talented! His vision is oh, so unique and so amazing, no one can see/create his world the way he sees/creates. I enjoyed it so much. Just like I enjoy all his movies. The exhibition covered lots of stuff from hand-written notes of Tim Burton to the movie props, the paintings/drawings to the actions figures… and much more!
Pictures are from Tim Burton Chronology wall before you go into the exhibition. (It was strictly no photography allowed inside.)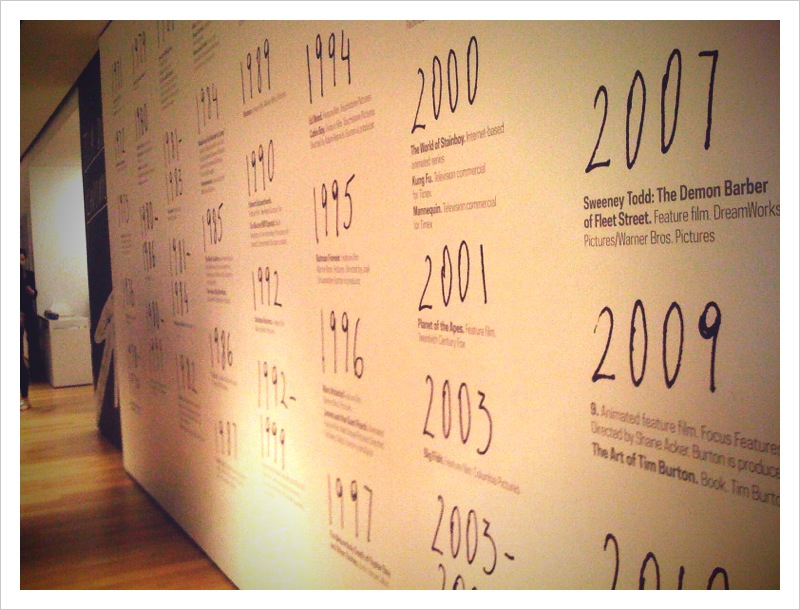 *****************
and this is an interesting exhibition that is happening at the MoMA right now, called "The Artist is Present" by Marina Abramović. (Until May 31.)
"the exhibition includes the first live re-performances of Abramović's works by other people ever to be undertaken in a museum setting. In addition, a new, original work performed by Abramović will mark the longest duration of time that she has performed a single solo piece. All performances, one of which involves viewer participation, will take place throughout the entire duration of the exhibition, starting before the Museum opens each day and continuing until after it closes, to allow visitors to experience the timelessness of the works." — How intriguing!
and here they are. Sitting in the middle of the exhibition room and just staring at each other. The lady in red is Maria. Was really interesting.
Hope you had a nice weekend! :)
**Read and find out more about Marina Abramović here.