New holiday greeting card is available now at my etsy shop — Decorate your own Christmas tree card! It's the personal touch that counts, don't you think? You can decorate your own tree with colored pencils, markers, stickers, pretty tapes, ribbons… or write your holiday wishes on the tree etc. you can be as creative as you'd like and send your special love this holiday season :)
What you'll get is a blank letterpressed Christmas tree.
and you can put your name after you decorate it as it is your masterpiece.
The card is 5″ x 7″ and it fits in 5″ x 7″ US standard frame so you can decorate it on your wall, too!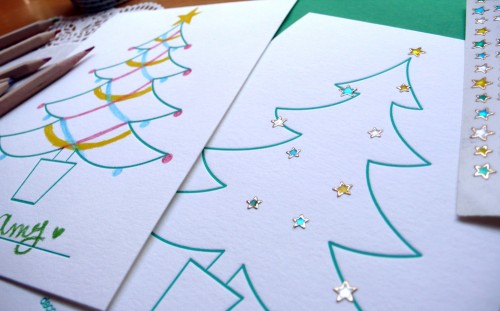 If you have kids, they can decorate one, sign and send it to your family — that would be the cutest Christmas card ever :)
Let me know if you have any other ideas, I'd love to hear!
And it is available right here.