I wanted to share some photos from the craft market this weekend… it was fun, it was a bit slower than we all hoped to be (because it was raining all day, so bad outside all day… :() but it was a great experience, I think I learned a lot and I also realized how hard it is to do this all the time like some artisits do. I have so much more respect now for the people at the craft shows! It was so nice to see people's reaction and encouragement in person, thank you so much for everyone who stopped by my booth and looked at my stuff!
My welcome area: I brought my wood type blocks to spell out my studio name (it's mirrored letters so a bit hard to read, though, my stuff is printed with wood types so I wanted to show some at the table) and I wanted to print something for the show for everyone to take home, business cards are small and people might lose them so I printed "HELLO!" postcards on recycled chipboard. My studio information on the back. I love how it came out, it feels so good with the impressions!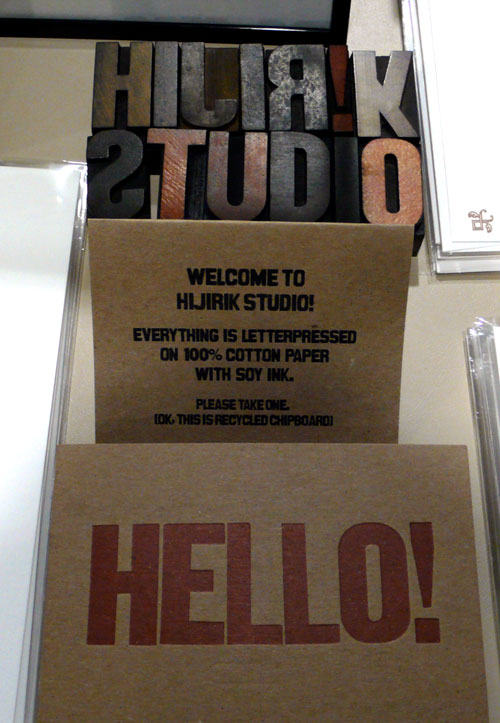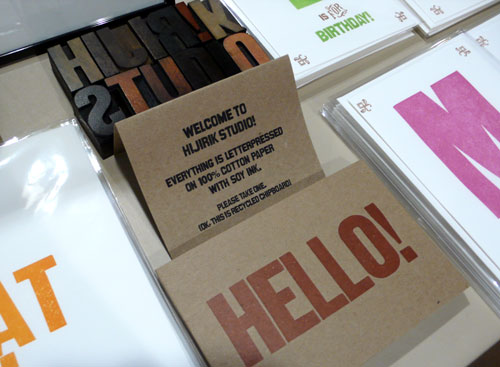 and my new cards; alphabet greeting cards and silver and gold note cards… coming soon at my etsy shop! M for Mother card was a hit :) It'll make a cute Mom-to-be card, too.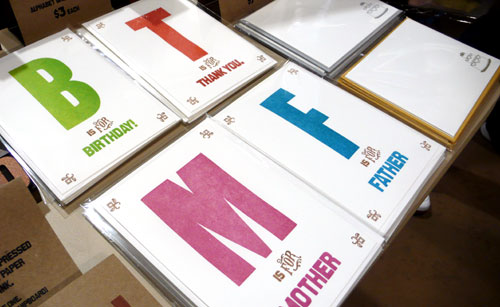 The alphabets are printed with wood types so I brought each letter for display, too. I will be posting a making-of pictures soon, too…
View from my seat:
That was another thing… I always enjoy shopping at the craft shows, but this time, I couldn't shop… so that was a little sad part :) I met a few awesome talented people, though, it was great!
Oh, and I have to thank Randy, my husband so so much for all his support!! I couldn't do this without him, and he was a big help as always! Also, my cousin-in-law, Greg and his girlfriend Caitlin came by from Boston! It was so nice to see you guys, thank you so much!