One of the things I learned and enjoyed at the stationery show is a booth giveaway. Every booth/company had something for the audiences to take home with so they can remember the booth/company. Some are just catalogs and business cards (well, these are mandatory), but some had really creative fun giveaways. I couldn't walk around much, but I'm sure there were tons more fresh ideas!
Our Ladies of Letterpress booth did an "Alter Ego ID card" giveaway (Maia from Dandy Lion Press came up with the idea and we all went with it. Elizabeth from Wildhorse Press designed the template, Kim from Paper Lovely designed the back of the card with all of our company names and Ladies of Letterpress logo). Each 11 of us came up with 2 alter egos, designed them and letterpress printed them so we had 22 different kinds of ID cards to choose from, we take picture of you, print it out, trim it out and ta-da — your alter ego card is ready. It was so fun to see people's reactions and interact with people :) Who would your alter ego be?
and the papers we used were Holyoke Premium Cotton donated by Holyoke Fine Papers. Thank you!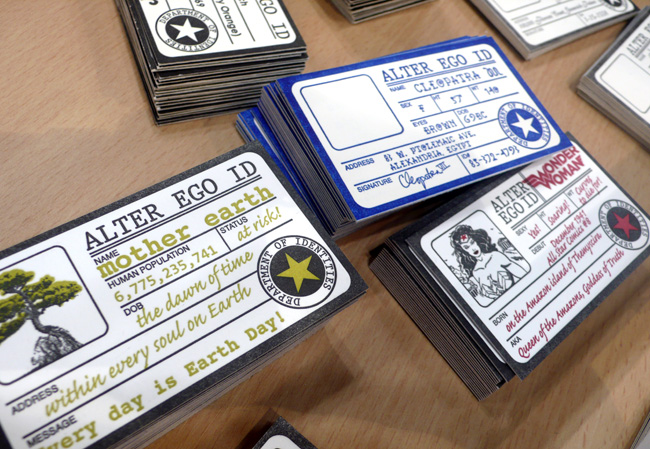 Mine :)
We also hosted a breakfast one morning — it was fun to get together before the busy day and meet with other exhibitors, eat, drink and chat. The invitation was designed and letterpress printed by Nadia from Ink Petals.
And Kseniya from Thomas-Printers made these cute "Printer" badge and everyone wore it with our passes, we are all so proud! Thank you!