As I mentioned, I took a platen press workshop over at the center for book arts all 2 days last weekend instead of Halloween fun and it was so worth it. I enjoyed it so much! I've been letterpress printing for 2 years now, but I have only been working with Vandercook so I've been wanted to learn how to operate platen presses properly (they are so different!).
This is my day 1.
The Printing Room:
They have drawers and drawers of metal types. After learning about the platen press, how to oil them etc. we set the metal types for a small business card size project.
I picked Spartan Black…
Pick up letters one by one… (the California Job Case sheet always comes in handy.)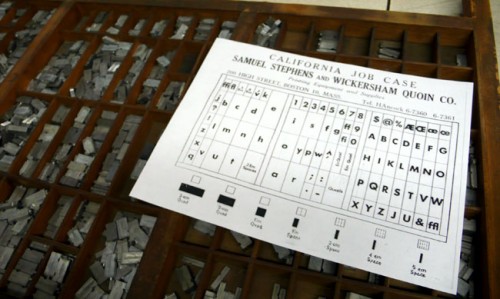 "HELLO" letters all set!
and locking up in the chase…
On the 1st day, we learned how to operate the table top press — this is Chandler & Price.
Learned how to set the gauge pins…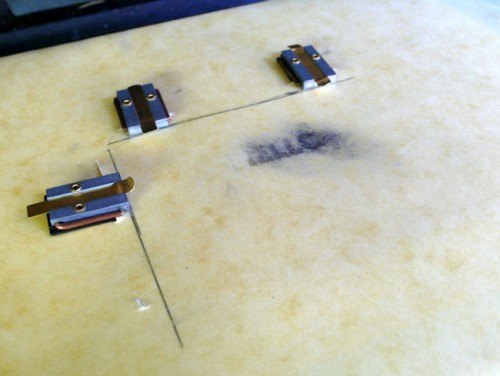 adjust impressions and such…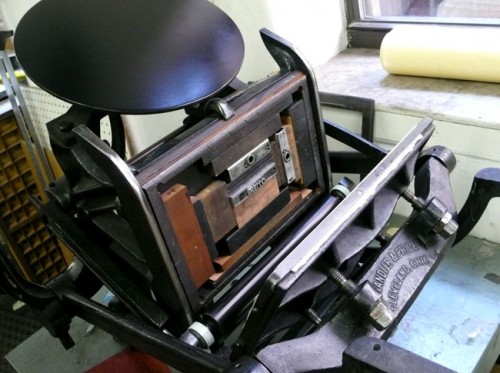 and print!
The tabletop presses are so small so it's perfect to print small things such as business cards. You won't get the strong impression like Vandercook gives, but it prints great!
To be continued to day 2…