Continue reporting from last Saturday's Brooklyn Flea… it was the launch day for the Flea Design Co-op! It is curated by Lena Corwin, featuring top Brooklyn artists in design, painting and printing, ceramics, letterpress, and more — it was worth checking out!
The limited-edition poster designed by Wayne Pate:
One of the tables… MAPTOTE – Wayne Pate….
Wayne Pate posters and mini prints — the mini prints were letterpressed! I had to grab some… I love his work.
Lovely Moontree Letterpress:
Wren Handmade (so cute!):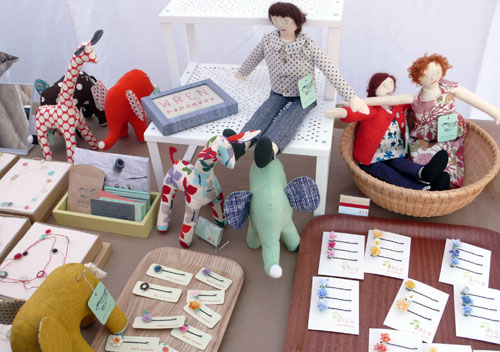 There were more from Lotta Jansdotter, Marcie McGoldrick, Sesame Letterpress, and of course Lena Corwin, but I couldn't take all the pictures, I was busy shopping around :) (and lots of people were there, too so.)
The design co-op is at Fort Greene every Saturday now on (through they close for the winter time) so if you have a chance, stop by! :)