I am going back to Japan in 2 weeks and I'm still looking for tickets… This is totally my bad, yes I'd been too busy, but also, I was thinking it'd be easy and cheaper to look for the last minute fare – I was so wrong! I found out that there is no direct flight to Osaka from NYC (aww why?) and tickets to Tokyo are getting more and more expensive every day… I have a choice to stop by San Francisco and then to Osaka, but I can't arrange the tickets to stay in SF for a little bit at the same price and so it's gonna be 2-3 hours stop over after 6 hours of flight from NYC and then another 12 hours flight to Japan… I don't know if I can do that, that is just too long.
So before I screw this trip over too much, I am booking a direct flight to Tokyo and then make my way home from there. I can't get the millage and it'll be more expensive, though… wait, should I take a long way and save money and get millage? I've been thinking back and forth for the last 48 hours. I really don't know what to do.
Anyway. My favorite travel store Flight 001 has so many cool and fun stuff. Traveling is fun and inspiring and this store sure will add more fun to it!
Spice set for in-flight meals:
Salt and pepper shaker: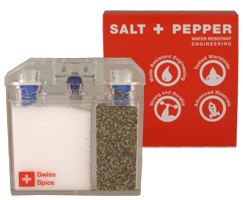 Neck pillow:


Mini bar set:

Eye mask: