It was my birthday on Saturday and I woke up to a wonderful breakfast cooked by Randy. It was really good, too, I was soo impressed (wishing he could do this every morning… hehe)!!
Every year on my birthday, I try to go to museums to get birthday inspirations, but this year, I couldn't do so… because Maia is here with us this year and I just couldn't leave her alone. I did try training her to be alone, though, because we needed to go out later… but oh boy, she doesn't like to be left alone at all!
Anyway, Randy organized a dinner party for me at Sushi Samba in West Village – I guess it was featured in "sex and the city" and the place was FUN and there they were, our friends! (well, it was supposed to be a surprise, but I found out a little beforehand… oops) I was soo happy to see them all and we were having such a fun time!!!
….until I started feeling sicky at the very end… aww I don't know what it was, seafood? mojitos? fried food? but I was sick. For a while. So I had to end the night and come home… sucks!
but I want to thank everyone again for coming out, I had so much fun and it meant a lot to me!! And THANK YOU, Randy for a wonderful birthday!! You are really the best. Also!! for all of my friends and families who sent me your birthday wishes, thank you, thank you, thank you. I wished you were here and I thought of you guys, too!!! I love you all!!!
Some pictures from the night: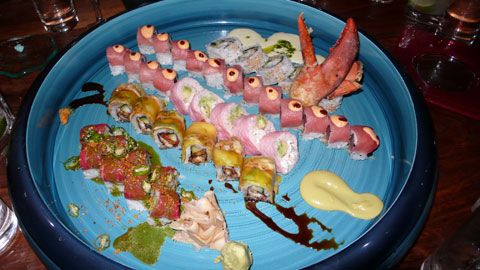 Halley – it was her first time eating sushi! She liked it.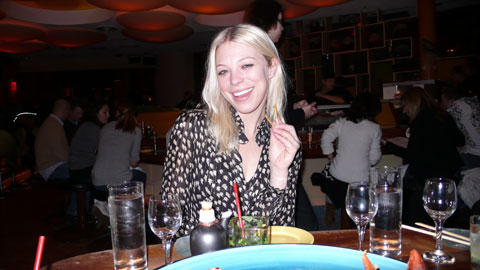 Kate and Tim

Keiko and Jeremy

Girls picture!