Randy's good friend, Niq Jones (he's a great artist) was in town this weekend and so we took a trip to Whitney Museum of American Art. It was my first time there and they are having 2008 Whitney Biennial right now featuring so many artists and so the museum was filled with installations, paintings, sculptures, photographs, films… anything that screams artists' vision was there.
Out of so many great pieces I saw, I thought this short film called "Letter on the Blind For the Use of Those Who See" by Javier Téllez was the most memorable piece. The film was about 5-6 blind people touching an elephant for the first time and showed how they reacted and what they thought and also, included each comment about what it's like to be blind. My eyes were almost in tears when they were touching the elephant and feeling the elephant. I would never understand what it's like to be blind, but they can see it with their hands and senses, and feel what I could never ever feel and each moment was just so beautiful.
(picture is from the website – production still photo – the film was done in black and white)
There are Matthew Brannon's letterpress prints collection and that was great, too.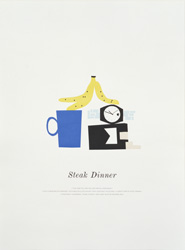 Here are the artist lists. It was just so fresh and some are really loud and some are quiet, but really strong and it was such an experience.
It is going on until June 1, 2008, if you are interested, you have time to come visit!